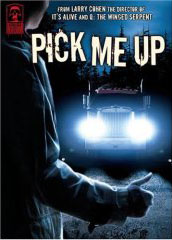 "Pick Me Up" is one of the better episodes, not because of the story but because its another Larry Cohen adventure. Cohen has a long history of off movies from Q: The Winged Serpent to God Told Me To to It's Alive! It's great to see another opportunity to see Cohen produce something strange and interesting and it's also a good chance to see him reunited with former collaborator Michael Moriarty, who does an excellent job of getting to his dark side as a serial killer in this tale of two serial killers fighting over a single piece of prey, a girl played by Fairuza Balk.
The particulars of the plot are fairly inconsequental, though they play out nicely, but the actors are the real stars of the show. The juxtapostion of the young, hitchhiking serial killer and his older, truck-driving rival are interesting, especially in the handling of their alternate motivations and the frictions between them.
There's plenty of violence to keep people entertained, but it's Cohen and his gang of excellent actors that take the day on this one, which, otherwise, would have been as dull as half of the rest of the season.