Created on Thursday, 08 September 2011 17:08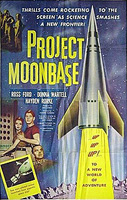 I've almost escaped the prison that is Commando Cody. The end is nigh and then I won't have to sit through the insufferable tedium of non-action serials.
The show, for its part, is actually starting to shape up a bit, as well. There were actually a few lines that made me laugh, though I'm having trouble at this point deciding whether that's due to a general lack of enjoyablility so far or because there was actually something decent in this episode. I'm tempted to go outside and lick some asphalt to see if my diminished ability to find joy in the world will allow me to take pleasure in that, just as a control sampling.
At least the movie is short (with that double-dose of Commando Cody) and it seems to fly by in comparison to some of the earlier episodes. Of course, the end is a complete mess that seems to have no purpose other than to show that women are stupid and only by getting married to a guy you didn't particularly like until you overheard him talk about asking you marry him can you find real happiness. Though the dumbshit factor was high, as far as the plot goes, and the miniature effects were crap, the acting was surprisingly decent and the pace (at least with much of the movie trimmed out) felt good.
If anything is still tainting the experience of watching MST3K, it's the continued existence of Josh Weinstein. The very sound of his voice, particularly as Doctor Erhardt, makes me want to punch a baby in the asshole. I console myself with the knowledge that, after 4 more doeses of his brain herpes, I will be free of him for all time.